Are you are planning to visit Rome during this Spring?
FALL DEAL Get your special 10% discount on the any products of Fuoco Aria Acqua LAST MINUTE The offer includes up to 10% discount on Bed and Breakfast in S. Peter area near our laboratory with a Leather present for you.
This promo finish the 25 April 2017
SO HARRY UP FOR BOOKING
WITH COMPLIMENTS OF FUOCO ARIA ACQUA

For more informations and to book our promotions
fill the form
and we will send you our best offer as soon as possible!
Spring in Rome lights up with new colors, in the city you can already smell the scent of the flowers that soon will bloom, the warming rays of sun let you wanna dress with lighter clothes. In the evening the outdoor tables and rooftop gardens are waiting for you to enjoy a drink under the stars.
Holy Easter
16th of April Pope Francesco celebrates Easter Mass, the most important mass of the liturgical year, preceded in the previous night by the Easter Vigil. On that occasion in St. Peter's Square you can enjoy the Easter message of the Holy Father and will be imparted the blessing "Urbi et Orbi".
Liberation Day
For the 72nd anniversary of Liberation Day on April 25, as every year, plenty of events like institutional ceremonies, commemorations, special openings of museums and historical monuments will take place in town.
Labour Day
The Concert of "Primo Maggio" (1st May) is the largest free event of live music in Italy. Start in 1990, it is held annually in the piazza di Porta San Giovanni in Rome recalling hundreds of thousands of spectators
Piazza di Siena Horse Show
In its 85th edition, the Piazza di Siena Horse Show (25-28 May) is one of the most important international events in Rome, where the best riders and amazons are challenging and the sport is enhanced by elegance and beauty.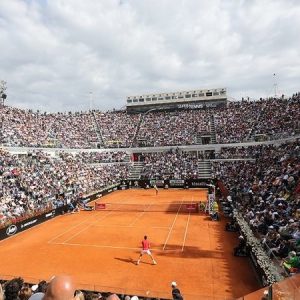 International Tennis Open 2017
The Internazionali BNL of Italy will be back, from 10 to 21st of May, one of the most  prestigious International Tennis Tournament. Also this year in the beautiful setting of the Foro Italico, follow and support the biggest stars of world men's and women's tennis.